Gender analysis for Malaysia's 14th General Election Parliament Candidates
Among the campaign promises, for Pakatan Harapan one of the political coalitions for Malaysia's 14th General Elections was to have 30% representation by women. All major political parties fell far short of this figure when submitting candidates. Overall only 11% of electoral candidates were women, making this election promise difficult to achieve.
Key Findings
Women were severely under represented for parliamentary elections, making up only 11% of total candidates.
Women in major political parties from both sides, did very well relative to their male counterparts
Breakdown by Party
Out of 39 parties contesting in GE14, only 19 parties have female candidates.
In GE14, we see People's Justice Party (PKR) with the most female candidates with 13 representatives, forming 18.06% out of the total candidates from PKR. PKR is also the party with the third highest number of candidates.
This is followed by Malaysian Islamic Party (PAS) with 10 female candidates, forming only 6.37% of the total candidates representing PAS, as they have 147 male candidates. PAS is also the party with the most number of candidates.
United Malays National Organisation (UMNO) has the third highest number of female candidates (9 persons), forming 7.63% of the total candidates representing UMNO. UMNO is also the party with the second highest number of candidates.
In terms of percentage, Peace Party is the only party with 100% female candidates with 2 persons, followed by Malaysian United Party (2 persons), and United Sabah Party (2 persons), both at 40%.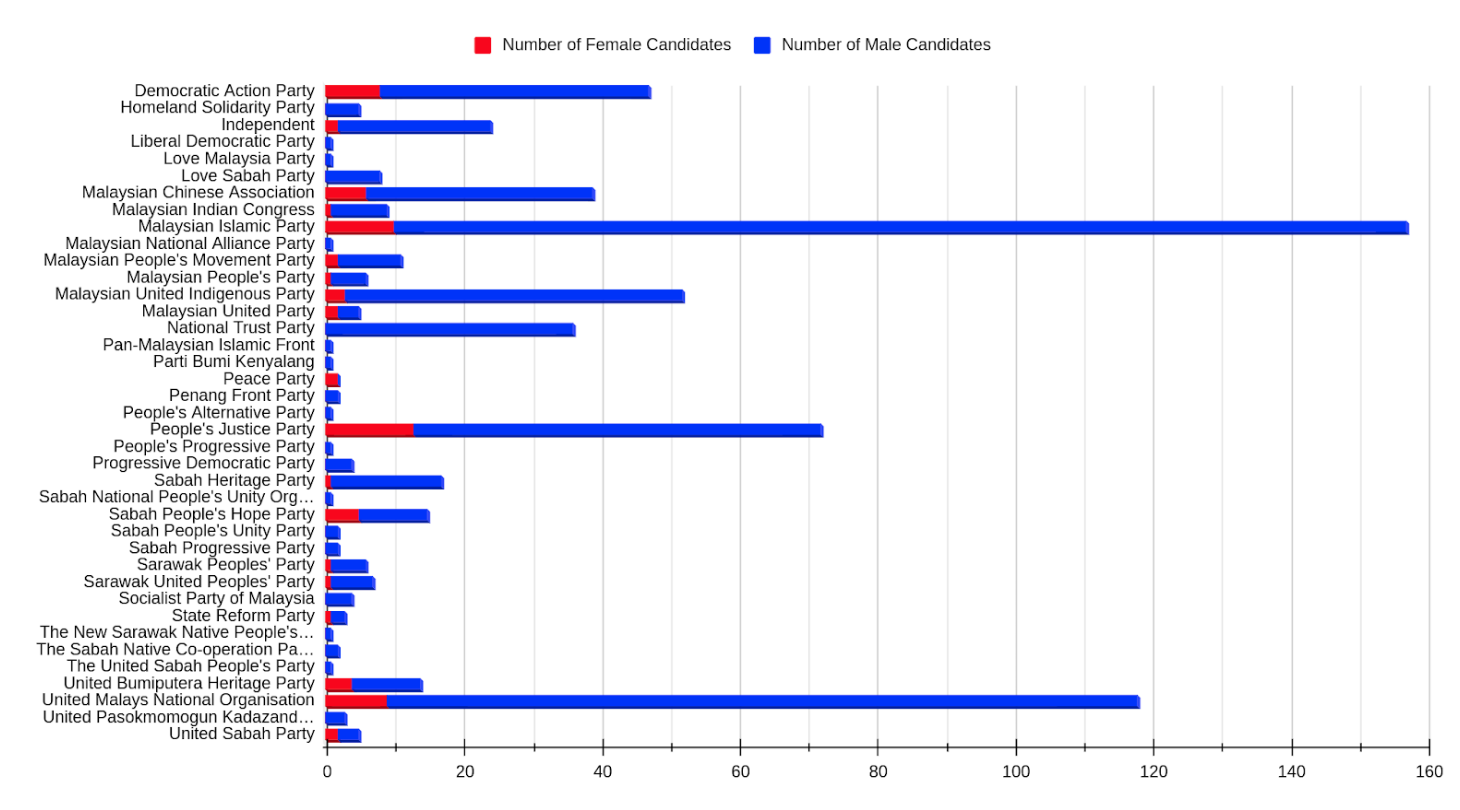 How did women candidates fare?
Despite much lower numbers of women candidates, for major political parities, especially for Pakatan Harapan component parties, the women outperformed male candidates. The Democratic Action Party (DAP), all their women candidates (8) won their seats, while making up only 17% of the total candiates for the party. We see similar numbers for People's Justice Party (PKR) with 13 or 76.92% of their women candidates winning seats. Similarly for major component parties of the incumbent coaliation Barisan National such as UMNO, again the women were under represented, but won two out of three seats they contested.
Malaysian political parties need to do better for gender equality
Despite strong popular women politicians in Malaysia, women are still severely under represented when it comes to being selected as candidates to run for parliamentary office. Despite doing better better in winning seats for major political parties, only 31 women ended up being elected to parliament, only 13%. In future elections, there must be greater demand to push for more gender equality and for political parties, especially those running on a progessive platform to have a more balanced ratio of electroal candidates running for office.
---
Feedback
To fill in the feedback you are required to login first